There are many interior design ideas that the designers employ which you can easily do with less effort and less investment.
It can be anything either addition of a mirror, a lamp, a painting or a plant. You might be even thinking of brightening your room or adding some warmth to your living space or softening your walls.
Here we have come up with some of the best interior design ideas so that you can create your own home design plans or some simple home design ideas.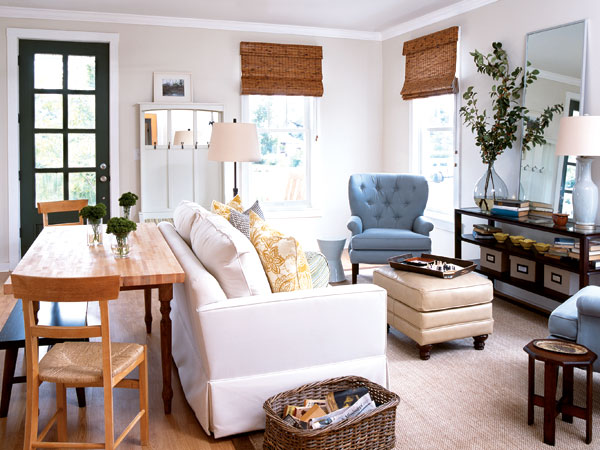 9 Home Design Tips To Transform Your Home
Paint your rooms in light colors and softer
Make use of decorative mirrors
Mix different patterns and textures
Design the wall properly
Environment Rich
The wooden flooring
Simplicity provides more comfort and relaxation
The sharp interior design
The combination of different materials
1. Paint your rooms in light colors and softer
The living room is the best example of maximizing your small living space. The living room has a tendency to seem cramped.
The windows or the light colored walls reflect the natural light that is poured from doors and windows.
You can check for home designs online. If you try some dark colors in the living room, it fees much smaller.

2. Make use of decorative mirrors
You can use mirrors to make the small space feel large. You can make use of small home design for large rooms or any room having limited space.
The decorative mirrors can be used in lieu of art to fill the empty wall space. Using large or small mirrors add some natural light and dimension for your living space with the help of simple home design ideas.
3. Mix different patterns and textures
You can place family heirlooms besides your modern couch. The most important aspect of designing your home reflects your style and personality.
4. Design the wall properly
Bold Colours – See that you paint your walls in bold colors in order to look beautiful.
Floral Wallpapers – the florals don't go out of fashion. The floral prints on the wallpapers are major ins.
Tribal Patterns- One can even make use of aesthetic tribal prints or tribal patterns on your walls.
Boho vibes – the Boho style has made its place in the list of top trends again.
5. Environment Rich
Nowadays, eco-friendly and sustainable environments are setting a new trend.
6. The wooden flooring
The light colored wooden floorings are another combat with the luxurious feels.
7. Simplicity provides more comfort and relaxation
Any person embracing the feeling of serenity which comes from the home, utility, and simplicity is just what they need.
The home design plans with the white walls, the earthy and natural materials and the neutral tones would surely make you feel the comfort you seek whenever relaxing in your house.
These designs cheer up the kids those who do not look up to anything during running around and is also the perfect one for you to chill out with your friends.
8. The sharp interior design
In the modern days, interior home design ideas are defined by its precision and sharpness. Nowadays, you will find the angular lines and the edgy rectangles along with the impeccable circles in your homes.
These not only allow the interiors and the visitors to be charmed with their aesthetic appeal but also enable them to feel the comfortable living experience.
9. The combination of different materials
Modern day living room interior home design ideas for apartment follow a mix of different kinds of materials.
They prioritize plastic and wood along with natural grain finishes. One of the most common materials used nowadays in this field is shiny metals, for instance, stainless steel.
They provide a stylish look for the furniture and are easy to handle. The use of some shiny metals is useful whenever it is combined with the lesser striking features.
One can also do a combination of the shiny metals along with the glass, wood elements or with any attractive decorations or attractive accessories.
Whether you have recently moved out or you are looking for any quick, little home pick-me-up, or perhaps something that is more significant. One can find the best and the well known interior design tricks which designers can employ.